Comodo
The largest CA worldwide
Comodo is one of the most respected brands in the web security market. Comodo holds more than 40% market share with over 700,000.00 business customers and 85 million desktop security installations. This number is growing every day. Comodo, a private company that was established in 1998 and is privately owned, is agile and aggressive. It can keep up with security trends and be at the forefront of them. Comodo is the perfect choice for your company if you are looking for a security solution that will meet all of your needs. You can also trust Comodo as a brand. Now Comodo comes under the Sectigo brand, but it is sold separately.
BASIC
Comodo Positive SSL Certificate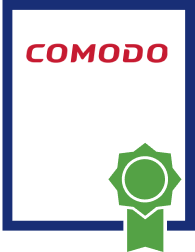 Comodo Positive SSL certificate gets issued within 10 minutes. This time period means a lot of saved time for businesses that collect personal or financial information from customers on their websites.
Validation Level: Domain Validation (DV)
Encryption Level: 256-Bit Encryption
Issuance Period: 10 to 15 minutes
Visual Trust Indicators: Padlock, HTTPS, and Comodo Static Site Seal
Warranty Amount: $50,000 relying-party warranty
PROFESSIONAL
Comodo Positive SSL Wildcard
Comodo Positive SSL Wildcard is a reliable choice for light ecommerce websites. The main factors are its cheaper pricing and few-minute issuance since it is a Domain Validated (DV) certificate.
Validation Level: Domain Validation (DV)
Encryption Algorithm: SHA 256-bit Encryption
Issuance Period: few minutes
Visual Cues: HTTPS URL, Organization's name in Certificate details and Padlock
Warranty: $10,000
BUSINESS
Comodo Multi-Domain SSL
Comodo Multi-Domain SSL certificate is an organization-validated certificate that helms the 256-bit encryption along with 2048-bit key length.
Validation Level: Organization Validation
Encryption Algorithm: SHA 256-bit Encryption
Issuance Period: 1-3 business days
Visual Cues: HTTPS URL and Padlock
Warranty: $250,000
Millions+ of People Trust SSL Solutions